Studio Theatre Festival
September 7, 2018 @ 6:30 pm

-

September 9, 2018 @ 8:30 pm
Event Navigation
The Studio Theatre Festival is a three-day long festival with three handpicked, unique plays performing at the Bewajah Café Studio Theatre. All the plays will compete to win the hearts of the audience and the jury and present us some amazing performances back to back for three days.
Our final plays for festival are:
1. Samwadiya (from Delhi)
[6:30 PM, 7th September]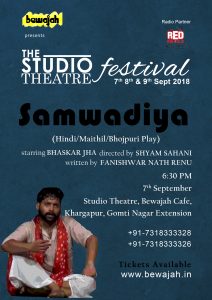 The play talks about a time when the postal services are on the run and the job of Samwadiya (the messenger) is of no use. But to a matter of surprise, he has been called again by a lady who hails from a privilege family but is forced to live in scraps. The message is delivered by Hargovind who narrates each word with exact emotion in which the information is meant to be delivered. The story questions the importance of one man agaisnt the techological leap of the society.
Writer: Fanishwar Nath Renu
Director: Shyam Kumar Sahani
---
2. Dayashanker Ki Diary (from Lucknow)
[6:30 PM, 8th September]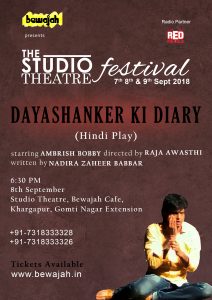 A story of a simple man who travels from his hometown to Mumbai in effort to become an actor. Yet, despite all his efforts, every day he faces indifference and exploitation. He struggles between compromising with reality and following his dreams and trying to decide the aim of his life.
Writer: Nadira Zaheer Babbar
Director: Raja Awasthi
---
3. 30 Days in September (from Mumbai)
[6:30 PM, 9th September]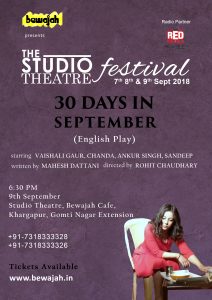 Mahesh Dattani's 30 Days in September, is a grueling story of child abuse in a simple household, a mother and daughter relationship, and the complexities of a women finding pleasure in the pain while thrown about over the years, making her addicted to romantic relationship that should last no more than 30 days.
Writer: Mahesh Dattani
Director: Rohit Chaudhary
ADULTS ONLY
---
The performances will be judged by the Audience as well as our esteemed Jury. The best performance, which will have the most points from the audience and our special jury, will win the rewards in three categories: Best Play, Best Actor, Best Director.
ONLINE TICKET SALE IS CLOSED NOW! YOU CAN GET YOUR TICKETS AT THE VENUE (BEWAJAH CAFE) FROM 4 PM ONWARDS.