A quiet, little evening with to sit down and patiently listen to the words of the poet flow through the air and settle deep inside your mind. That was the idea of the Bewajah Evening: In Search of Poetry, where we called two brilliant poets, who masters of their own styles, Ameer Imam and Sudhanshu Firdaus.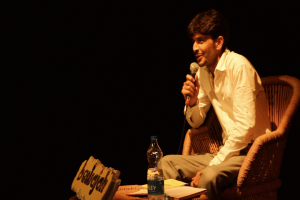 It was a small session, where both the poets, one after another, took their turns on the stage and delivered a sharp, still and beautiful moment, reciting their amazing words. Ameer Imam is an Urdu poet, whose collection of poetry, Naqsh-e-Paaon Hawaon Ke (Footprints of the Winds) was awarded the YuvaSahitya Academy Award in the year 2016. He is one of the talented lots in the contemporary Urdu writing and has been doing an amazing job, keeping up with the title. Sudhansu Firdaus masters a very different kind of poetry, where he uses the elements of life and nature, the world around us and stitches their images together with words to express his thoughts.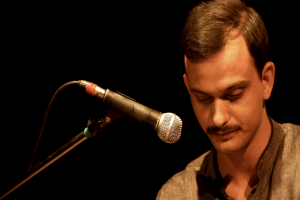 Both the poets, when they took the dais, grasped the moment in their hands and captured the audience, taking them inside their head, and bringing about the phenomenal feeling of being connected to something else, other than the world.
---
Date: 6th September 2014
Time: 7:00 PM
Venue: Sangeet Natak Academy
Poets: Sudhanshu Firdaus, Ameer Imam