Bewajah started the year 2017 with a play that dealt and discussed the issues of women and their struggle with the patriarchal outlines of society. The title character Madhavi is adapted from the stories around the time of Mahabharat, and her struggles. The serious issues that women have been facing for centuries find its roots seeded deep in the past, in our language and structure of society and the victims, the women, not only give in to these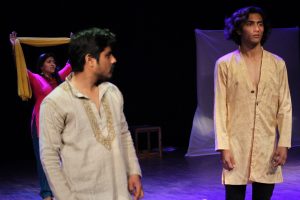 bounds but also accept these norms as the general status of their lives. The writer and director of the play, Arav Aryavanshi focused the story to study the impact of the behaviour and rules of society, which leads to a general degradation in the status of women as well as it haunts their basic understanding about themselves.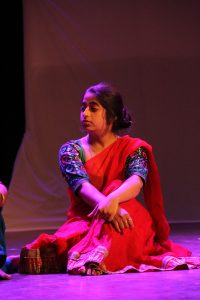 The play used women in the contemporary times, the story begins in the streets of Kolkata, where these women discuss the story of Madhavi from the Mahabharat, and compare their lives to the daughter of a king, a princess with divine gifts. The similarities are shocking and disheartening. It pushed the viewers to think about where we need to fix things and how the small values that are awarded to each section of the society are somehow lost in the blind beliefs and common bigotry of the patriarchal norms. The play also used live music, designed to capture the moods of the characters and provide an audible texture to their performance.
The play was sent for the auditions of Thespo18 theatre festival and was counted among the best entries, as a result Arav had also been invited to be a part of the festival, where he attended workshops and joined the panel of the directors from the selected plays in discussions over the art.
Date: 25th Feb 2017
Time: 5PM & 7PM
Venue: Thrust Auditorium, Bhartendu Natya Academy, Lucknow
Cast: Aarti Dubey, Aditya Tiwari, Basant Kumar, Jeevan Singh Rawat, Mohit, Mayank Srivastav, Pooja Singh, Vaishnavi Bhatia
Music Composition: Rohit Verma
Writer & Director: Arav Aryavanshi
Note: The language and content of the play is not suitable for minor audience.