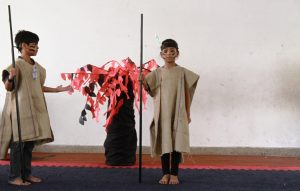 Introducing children to various artforms leads to amazing results. The process of learning and growing gets a different boost when they get in touch with any art. A performing art such as theatre, helps develop a model of thought process that leads to wonderful results once they start understanding the process of change. One of these experiments was Open Up, and the workshop we conducted at Springdale Schools.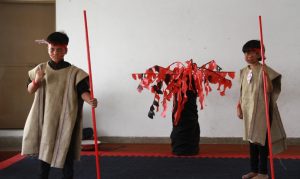 We announced a fifteen-day theatre workshop at two of the branches of the Springdale School, collecting children who are interested in theatre and performing arts and giving them the exposure of personality development. With selected kids, we began the workshop, spending the first few days on introduction of theatre and stage performance, then we went to conduct some activities of stage performance and group activities. These activities helped the kids to develop the understanding of team work and collectively work on a project. Activities of reciting, reading and remembering the script helped them enhance their skills of understanding and reading books and stories.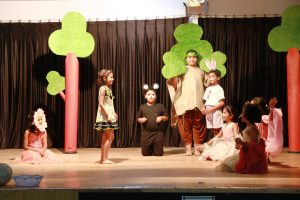 All of these activities were concluded with a small presentation, where the kids performed a play with costumed and property. An entire experience of learning and fun, combined together to build an atmosphere of personality development is what the kids took with them.
Duration:
Faculty: Apurva Shah, Divyanshu, AnanyaPrabhu, Vishal Kapoor
Associate: Springdale School (Indiranagar and Gomti Nagar)