In these 'liquid times' of the 'runway world', kids are challenging your "grown-up"ness like never before. Often, parents give up on the unwieldy monster inside their kids, and let some monster'er'  monster manage the menace. Probably, this is why yours truly was convinced by perplexed relatives to baby sit their tweenager this weekend while they were off to attend some socialdo ????
Well, the good Samaritan in me thought of playing a constructive role in the kid's life and being that divine intervention, that transforming force, you only see in movies. I thought that book reading might be the best thing to do.  So on my way, I dropped  by  the nearest bookstore. As I was browsing through the bookshelves, I heard Alice shout from the wonderland inside my head, "what is the use of a book without pictures or conversations?". Thus, I was tricked into buying a picturebook titled "Lost and Found" by Oliver Jeffers. And I was off. (Picturebook for a tween ???? Go ahead, giggle your liver out).
Now, take my word- never babysit a tweenager. Truss him up, gag him, whack him, thwack him, hang the brute upside down, but never babysit him – for these GenZ teens are Dahlian hornswogglers. And this particular kid – who had just witnessed the crack of teendawn – thought I was his minion and punchbag in flesh and blood. I was forced to do his homework, serve him hundred mugs of  hot chocolate, order an extra large pizza, and operate the TV remote on his orders. He then handed me a slipper and bossed me into battling and killing three lizardlets which had barely hatched out of their eggs. That grisly grin on his face at the babelizzies' deadbodies was dreadfully beyond my comprehension (insert ironical music piece in the background: "bacche mann ke sachhe"). I was intuitively extrapolating his action graph to calculate his next move-  will I be coerced into slitting my wrist or throat, who knows. Anyway, I owe my life to this cellphone in his hands. He captured a few shots of the lizzlet corpses which had now turned blue. The photographs were shared in his WhatsApp group under the caption "I be the Lizard Slayer". As he drifted into his virtual world, I sidled away into the next room and made a frantic attempt to forget this trogglehumper by reading the picturebook to myself  ????
<<<<<Sharp Break from Reality>>>>>>>
One fine day, a penguin lands at a boy's door. The boy is clueless about this new creature.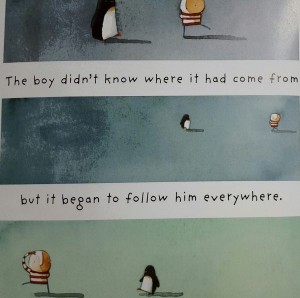 <<To self : you know what Whitman would have said at such a situation?
"Stranger, if you passing meet me and desire to speak to me,
Why should you not speak to me?
And why should I not speak to you.">>
The penguin seemed lonesome and woebegone, as if he had lost the way. The boy decides to help him.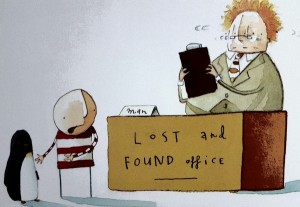 But neither had he been reported missing nor did anyone cooperate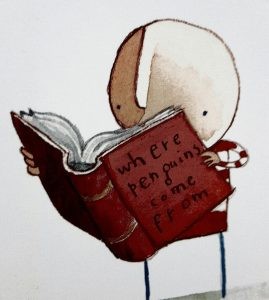 So the boy did his own ground work and found out that Penguin came from South Pole. With determination and optimism, the boy and the penguin made a rowboat as sturdy as they could, packed all stuff they needed for their long journey  and set off to the South Pole. Raging against the wild roaring high waves, braving fierce weather together, they finally reached their destination.
The boy helped the penguin out of the boat and they bid each other a sentimental farewell. The boy then steered back, homeward-bound.
<<To self:"How many we see in the street, or sit with in church, whom, though silently, we warmly rejoice to be with! Read the language of these wandering eye-beams. The heart knoweth….Our friendships hurry to short and poor conclusions, because we have made them a texture of wine and dreams, instead of the tough fibre of the human heart." Ralph Waldo Emerson 1841>>
The boy feels a strange vacuum in the empty rowboat. The difference between being lost and being lonesome  becomes clear to him.
"..do not wish to treat friendships daintily, but with roughest courage. When they are real, they are not glass threads or frostwork, but the solidest thing we know. "
The boy realizes this solid bond and goes back to find the penguin. Do they meet again? Oliver Jeffers  gives the
answer- knitting a tender story with such heartsome illustrations that you will grieve at the loss of the kid you once were.

"What is so pleasant as these jets of affection which make a young world for me again? What so delicious as a just and firm encounter of two, in a thought, in a feeling? How beautiful, on their approach to this beating heart, the steps and forms of the gifted and the true! The moment we indulge our affections, the earth is metamorphosed; there is no winter, and no night; all tragedies, all ennuis, vanish, — all duties even; nothing fills the proceeding eternity but the forms all radiant of beloved persons. Let the soul be assured that somewhere in the universe it should rejoin its friend, and it would be content and cheerful alone for a thousand years." (RWE)
<<<<< Reality Breaks In>>>>>>>
The door bell rang sharply, shutting out the transcendental trance I was in. The "lizard slayer" lay asleep on the couch with cellphone on his chest and mouth wide open- I was  tempted into dropping the lizzlet corpses into his gaping cavity. Depriving myself of the  joy, I opened the door and ushered his parents inside.
I heard myself say, "Oh! You have a darling sonny boy". Three pairs of blank eyes exchanged looks in all possible combinations, trying to grasp what it meant. Perhaps the awkwardness of the conversation led me to the kitchen to fetch some Chai. The beverage helped tadalafil 5mg. We talked of this and that and that and this; after which I took their leave. As for the picture book, I purposely left it for the kid, with a belief that he would read and value the book someday. For that day to arrive, all he needs is a friend.
Driving back home, I thought of Damon and Pythias; Krishna and Sudama; Frodo and Samwise; Heidi and Peter; Hermoine and Harry; Tom Sawyer and Huck Finn, as Whitman spoke softly in my head:
"I dream'd in a dream I saw a city invincible to the attacks of the
whole of the rest of the earth,
I dream'd that was the new city of Friends,
Nothing was greater there than the quality of robust love, it led the rest,
It was seen every hour in the actions of the men of that city,
And in all their looks and words."
---
Illustrations by Oliver Jeffers