"Openness may not completely disarm prejudice, but it's a good place to start."
– Jason Collins, first openly gay athlete in the U.S. pro sports
After having studied, worked and lived in Delhi, soon after 5 years I started to miss Lucknow. Coming back to my own city, my family was always a part of my plan. I knew I was one of those who had always wanted to gather all the knowledge and experiences whilst I could. A social worker and a writer by profession, I tapped closely on women and children issues across the city over the years, met some wonderful people and organizations who I can vouch for any day. Our city is often portrayed under a whole different light in the media and at times, fighting back in arguments over a Facebook post or maybe in a gathering is all that we can do but I have always know how big Lucknow's heart really is. I always knew how inclusive the people here can be.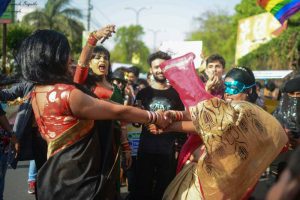 All that being said, we of course also have lacked in ways as well. Umpteen number of times have I had friends from across the country asking me if Lucknow had a "functional" organization or maybe a group of people working towards the very much talked about issue that is LGBTQ rights and I remember letting out a deep sigh and telling them every time, "Someday."
Cut to two weeks back, I get a message from Apoorva, a friend I made a year back at one of our Lucknow Book Club meets. She asked me if I had heard of the 'Awadh Pride Group' and I ask her "Does.. the pride.. here mean LGBTQ Pride?", almost sure that's not it but to my sheer surprise she says, "Yes!" and I'm stunned. I barge in on her with questions and questions. I was delighted. I am usually tend to get critical of organizations and people that working around us, to be very honest, but this one time, gunjaaish hi nahi thi. I was just so happy that someone from our city cared and had dared to take a step in that direction. Cut to Sunday, the 9th of April, I was standing on one of the busiest chaurahas of Lucknow, the Secunderabad Chauraha, and around me were more than 100 people who belonged to all genders. UTTAR PRADESH'S FIRST QUEER PRIDE PARADE WAS HAPPENING AND IN LUCKNOW! Dear God. I can't tell you how happy standing amidst that crowd made me so emotional and excited at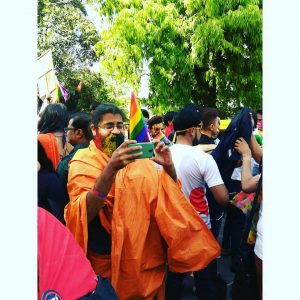 the same time. The LGBTQ community had come out in such large numbers, dressed up in their best of attires and also the widest of their smiles. This parade was a first in our city and it was rather planned over a short period of time but even if just a little amount of push and effort, SOMETHING SO MASSIVE HAPPENED. It was goddamn beautiful. I mean, all genders in public, at their happiest level, it was all so colorful, so vibrant, everybody was happy, everybody felt safe, what else do you think an ideal society can look like? This is the beginning, the best one. The huge flags, the vibrance, the badass placards, the dhol beats, everybody rejoicing in the middle of the road got so many eyeballs rolling and so many others join in. Oh, it was spectacular. Lucknow's first pride was nothing less than historic. "This, right here, is our city. *Chest swelling with pride*" said a friend who is a Lucknowite and lives in Bombay. Movements like these have the power in them to make a city, a society complete.
Not letting my emotions take over me, I'd get back to the pride. The pride, the pictures, the news has gone so viral and for all the right reasons.
So many of us met on the spot, in the parade but we danced together as if we'd known each other for ages. Less of judgement, more of kindness. These are the kind of events, the kind of people and positivity we need in our lives, don't we?
Soon, as the parade was over, I had bonded with quite a few of them so well, we went out for a coffee right across the Hazratganj chauraha and I was sitting and chatting away with a friend, who has recently come out about his sexuality. I hugged him to congratulate him on the pride and he was shaky. "The pride was gorgeous and the media coverage was big. I just hope my friends and family don't spot me any of the pictures and if they do, they don't recognize me." You see here what the bigger problem here is, don't you? We as a society have SUCH A long way to go and acceptance is all that we can offer each other.
We refer to LGBTQ as a cause but do you realize it's not a cause?
It's a community. Gays, lesbians, pangender, bigender, genderqueer, androgyne, intergender, we're all the same deep down. If we have the guts and audacity to fight for women rights, we should also be equally driven and have in it us to fight for all other genders too.
It's a group of people, a group of equals, a group just as us BUT definitely that needs our attention, love, care, warmth and acceptance a lot more. This is to a beginning that has an incredibly long way to go and we've started off just about right. I am so proud of Lucknow, and not one day till yet, through all of the good and bad memories, have I regretted moving back to Lucknow. This one just added so much to it by so much more.
This one's to a better and braver Lucknow. HAPPY PRIDE TO EACH ONE OF US!
---
Twenty-five, crass, young and yearning to make a difference to the society. Alisha is a writer and an activist. But beyond all of that, forever a Lakhnavi, a dancer at heart, a free-spirited woman and a feminist.
Photos by: Priyansh Tripathi