Having reached the age of seventeen and having been surrounded by literature often has drastic consequences, and in my case it led to a questioning of existence, a predicament the most people find themselves in while faced with a board exam. But since existence is such a broad, debatable issue, I managed to cut corners and eventually geared myself to the easier task of simply finding a metaphor for the extraordinary feat of living than to dive into the depths of whatever goal it may have. I concluded many things from my study (which comprised of eating potato chips and day dreaming), but the crux of it all was this: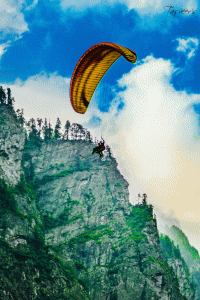 There is perhaps no better metaphor for life than a journey.
There is always a beginning, and an end . In the middle there lie countless possibilities, and nothing ever goes exactly according to plan. Because while giving us the opportunity to break off from the mundane and discover new possibilities, it also affords us the freedom to return with a new perspective.
A broader horizon, that gives birth to a broader mind.
There are perks of travelling that brochures do not display and photographs do not capture – the opportunity to experience a culture that you witness, to immerse yourself in the unfamiliarity of a new place.
Then there are the tangibles- the handwoven shawls from Kumaon, the seashells picked up off the beach in Goa, the boarding pass that is now a bookmark in your favorite book, and the stories that have been penned down into blog posts for the world to read. 
Like all adventure, travel, too, has its fair share of adversity: being stuck without directions in a foreign nation, or in India, a distant state; being the object of unwanted attention in a lesser known town, being fleeced by  locals while shopping for souvenirs – but in my experience, none of these minor bothers have yet been so unpleasant as to deter me from travelling, instead they simply serve as anecdotes and warnings to younger cousins who make the mistake of asking "how was your trip" or solicit brief advice on sightseeing opportunities but get more than what they bargained for.
There are many who do not have such pleasant experiences, but as in life, not all are lucky in travel, and it is only after we try our luck that we find what cards we have been dealt.
We often wonder why we travel, or why we like travelling, but just like there is no clear way to tell how a journey shall go, there is no singular reason – our love for travelling varies from each trip, and the reasons to travel evolve the way all preferences seem to and as we attempt to circumvent the existential question here as well, let's just take the shortcut and get on with comparing travel to life.
Perhaps that, indeed, is the reason we travel, and the reason we exist the way we do – to seek familiarity in the unknown and then embrace the unfamiliar.
Because we'll  remember running on bare feet
The places we've seen , the people we meet
Our languages (not yours or mine)
In lands that we shall leave behind
We wish to wander , yet not be lost,
In the sands of time.