The year 2017 brought a series of new ventures. One of the dream projects under the Theatre Wing, the Studio Theatre came into life, much alike the Frankenstein's monster, except, when it began to breathe, people held their breath and watched in complete awe.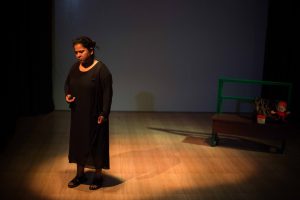 The first performance held at the Studio Theatre was a solo show of Dhoop Ka Ek Tukda, based on a story of the same name by the genius Hindi author Nirmal Verma. The show was the first segment in a drama series titled Stories of Separation, with plays based on the works of Nirmal Verma. The story at a glimpse often appears simple, though it's woven with intrinsic details and experiments with the craft and the format of storytelling is quite unique. But so was the performance.
The design by Abhishek Tiwari led to an uninterrupted flow of ideas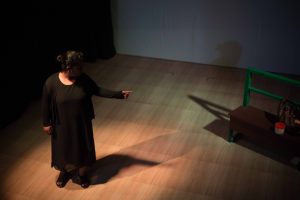 when the story of a lonely woman sitting in a park told by Apurva Shah came to life. The experimental structure of the play allows the viewers to settle into the narration and then starts to feel bits and pieces of emotions melting and forming a solid cast of memories and feelings inside them.
Dhoop ka Ek Tukda was although a prototype performance for the Studio Theatre, it discovered a path through the story into various realms of emotions inside us and the new pattern of performance that the Studio Theatre will bring out.
---
Date: 24th & 25th Feb 2017
Time: 6 PM
Venue: Studio Theatre, Bewajah Cafe
Performed by: Apurva Shah
Music designed by: Divyanshu
Music operated by: Pradeept Mani Tiwari
Lights operated by: Tasveer Hasan
Written by: Nirmal Verma
Designed and directed by: Abhishek Tiwari