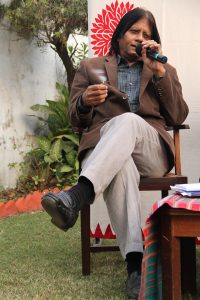 A winter afternoon in the company of a remarkable poet, reciting some of his exceptional works, at one of the most beautiful locations of Lucknow. At Sanatkada ka Adda, we invited the contemporary post-modern poet of India, and one of the best living poets in Urdu language, Farhat Ehsaas for a small interactive session of poetry recitation.
His real name is Farhatullah Khan. He was born in Bahraich, Uttar Pradesh and has worked as the assistant editor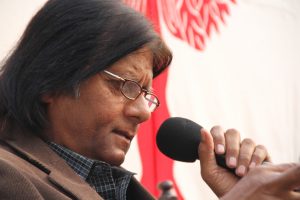 of a research journal in Zakir Khan Institute of Islamic Studies, Jamia Milia Islamia, New Delhi. While, reciting his work, Farhat Ehsas took the audience with his words and his amazing style of recitation, spilling out words on the socio-political issues and his extensive world-view. He shared some of his best works, sketching the thoughts through words and filling the empty cracks in one's mind with his ideas.
The event was more of a gathering than a poetry recitation program, and as always we return a big, tight, hug to Sanatkada Ka Adda, for giving us their space and let us have all the Bewajah moments.
---
Date: 15th Dec 2013
Time: 2:00 PM
Venue: Sanatkada Ka Adda
Poet: Farhat Ehsaas