Popular media critic joined Bewajah for a small interactive session with our audience and students on the aspects of media and journalism in the modern times. Vineet Kumar is known face in the world of journalism, the celebrated author of Mandi Me Media who has also written an anthology of light Hindi fiction.Vineet talked about the role of media as the fourth pillar of democracy and how it is failing to do so. He discussed the problems of contemporary media houses that propagates their idea of news and form a dangerous monopoly in the market to channelize and filter the news.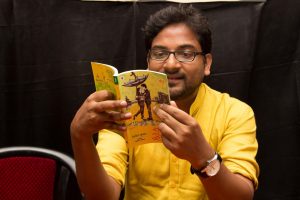 In a discussion with Himanshu Bajpai, Vineet discussed how the media houses control most of the headlines and how their influence is used to divert the attention of mass from important issues and subjects. The methods and tools of "creating" a news and selling it in the market. How the media has evolved as a business and news has become a product. He unraveled the layers of creating "fake news" and how to sensationalise it with a step-by-step description.
The fruitful discussion was a deep insight for the general audience as well as the students of mass communication and journalism who filled the seats and gained awareness regarding their disciplines and future.
He also read a few excerpts from his latest book Ishq Koi News Nahin introducing us to his talent in writing fiction and the understanding of human perceptions and some simple love stories.
Date: 8th May 2016
Time: 4:00 PM
Venue: UP Press Club, Lucknow
Guest Speaker: Vineet Kumar and Himanshu Bajpai