There is a different style of recitation and a completely unique method of writing poetry. He uses words of his own style and puts together various images into one amazing format of poetry. The way he puts words together, in his own renowned style. Bewajah put together an evening of his poetry recitation in the beautiful art gallery of Kala Srot.
Shamim Abbas was born in Faizabad and right now lives in Mumbai. He has published a collection of his poetry under the title, "Achhi Si Koi Baat." The most exceptional thing about his poetry is the selection of his word. Shamim Abbas takes you away from the world of the traditional poetry and the usual style of writing to an incredibly rich journey of words with texture. In a completely unconventional style, when Shamim Abbas began to recite his works, the listeners could not help but smile and respond with a loud echo of their wah-wah.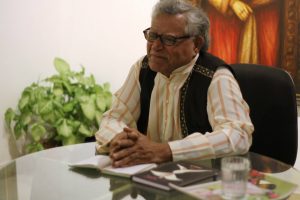 The evening allowed the audience to have a moment to themselves and gained an insight to look at the world in an off-the-track perspective of the old poet. The exclusive meeting with Shamim Abbas was a moment well-spent, and a remarkable Bewajah moment.
---
Date: 20th March 2015
Time: 7:00 PM
Venue: Kala Srot
Poet: Shamim Abbas